Acne or pimples  are common in both men and women in Delhi. Acne occurs mostly in people who have an oily skin  or those who make it oily by applying creamy stuff on their face. Another reason of acne in India includes the love of hair oiling in Indian patients. Hair oiling is a big NO in those suffering from acne as the oil further precipitates the condition.
Many people who are in a habit of using hair oiling suffer from acne on scalp and forehead.
Acne can occur anywhere above waistline and are common in areas like : –
Face, Scalp, Inside ears, Back, shoulders and chest.
The treatment for acne is same irrespective of the area affected.
The treatment of acne lasts around six months. The acne stop in a couple of month but the treatment lasts around six months so that they dont occur in future with tht e same severity.
The magic pill for all acne patients is the "Isotretinoin" which if used judiciously in consultation and follow ups with an experienced dermatologist gives great and long lasting results.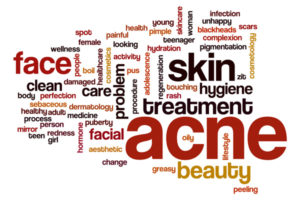 Acne treatment in Delhi is not only restricted to oral and topical medications but also many new treatments are available for a quick and long lasting results.
 At DermaWorld Skin and Hair Clinics , we offer all kinds of acne and acne scar reduction treatments at affordable prices for helping you ged rid of your acne.
So if You are suffering from Acne or Acne marks in Delhi – We are just a call away.
Call us at : 9811977222 to learn more about Acne and Acne scars treatments in Delhi.